SOUGHT AFTER
Good Class Bungalow areas

1. Belmont Park
21 Gallop Road/Woollerton Park
2. Bin Tong Park
22. Garlick Avenue
3. Binjai Park
23. Holland Park
4. Brizay Park
24. Holland Rise
5. Bukit Sedap
25. Kilbum Estate
6. Bukit Tunggal
26. King Albert Park
7. Caldecott Hill Estate
27. Leedon Park
8. Camden Park
28. Maryland Estate
9. Chatsworth Park
29. Nassim Road
10. Chee Hoon Avenue
30. Oei Tiong Ham Park
11. Chestnut Avenue
31. Queen Astrid Park
12. Cluny Hill
32. Raffles Park
13. Cluny Park
33. Rebecca Park
14. Cornwall Gardens
34. Ridley Park
15. Dalvey Estate
35. Ridout Park
16. Eng Neo Avenue
36. Swiss Club Road
17. Ewart Park
37. Victoria Park
18. First / Third Avenue
38. Windsor Park
19. Fort Avenue
39. White House Park
20. Fourth / Sixth Avenue
WHERE CAN YOU FIND GOOD CLASS BUNGALOWS IN SINGAPORE?
A GUIDE TO THE DIFFERENT DISTRICTS THAT CONSISTS OF GOOD CLASS BUNGALOWS.
Good class bungalows are landed properties situated in prime residential districts which are owned by the top echelon of society. Due to land scarcity, good class bungalows in Singapore for sale are more expensive than other residential properties.
Good class bungalows are landed properties that should not exceed 2 storeys high and should have at least a land area of 1,400 square metres, and has to be within the 39 designated Good class bungalows areas (GCBA). Good Class Bungalows are typically nestled in exclusive residential areas such as Ridley Park off Tanglin Road, Cluny Road near Orchard Road, King Albert Park off Bukit Timah Road, Leedon Park near Holland Road, and hilly areas like Caldecott Hill, Bukit Tunggal and Cluny Hill. In fact, there are only about 2,800 Good class bungalows located in 39 Good class bungalows areas (GCBA). Keep reading as we share with you where good class bungalows in Singapore are located at!
Some of the exclusive locations of Good class bungalows GCB in Singapore are District 10's Belmont Park, Cluny Park, Holland Park, Ridley Park, White House Park, and Nassim Road. Indeed, Nassim Road is one of Singapore's most sought-after residential areas. Among the exclusive locations of Good class bungalows GCB, Nassim Area holds the priciest Singapore bungalows, which are owned by Ultra-high-net-worth individuals.  Foreign embassies such as the Embassy of Russian Federation, Embassy of Japan, Philippines Embassy and the Royal Embassy of Saudi Arabia are also located in Nassim area.
One can also find Good class bungalows GCB in District 11 in Bukit Tunggal, Camden Park, Raffles Park and Swiss Club Road.
One can also find Good class bungalows GCB in Windsor Park in District 20, District 21's Binjai Park, Kilburn Estate and King Albert Park, as well as in District 23's Chestnut Avenue.
District 10 – Bukit Timah, Farrer Road, Holland Village and Tanglin
District 10's proximity to entertainment hubs and the orchard road shopping belt, and the CBD has made it one of the most affluent and prime residential estates in Singapore. The Good class bungalows GCB in District 10 is surrounded by vast spaces of greenery which include Singapore's highest hill, horse race tracks, forest reserve, nature reserves and open parks.
Truly, there is nothing quite like this kind of environment for a property investment.
Towering the Bukit Timah Planning Area at an altitude of 164 metres is the highest hill in Singapore, Bukit Timah Hill. The Bukit Timah Nature Reserve is located here, which adds to its expensive land value thanks to the abundant foliage beautifying the area as compared to other parts of Singapore. The longest road in Singapore, the 25-km long Bukit Timah Road which runs from the north to the south of the island, got its name from the Bukit Timah hill.
In this area, expatriates [ Since a rule change introduced sometime in the second half of 2012, only Singaporeans are allowed to buy landed homes in Good class bungalows areas (GCBA). Previously, foreigners who are Singapore Permanent residents could buy such homes if the land did not exceed 15,000 sft- subject to the nod of the land dealings approval unit. ( LDAU) ] and wealthy Singaporeans are mostly the owners of the Good class bungalows GCB as it is very expensive to own a Singapore property in this prestigious area. The Bukit Timah Nature Reserve is also located here which adds value to the Good class bungalows GCB here. Good class bungalows GCB owners here also enjoy the convenience of the Bukit Timah Expressway. Comprising of Bukit Timah, Farrer Road, Holland Village and Tanglin, it is a place that offers both the scenic view of nature and the close convenience of city life.
District 10 also encompasses a considerable number of Singapore's top institutions/ schools, namely Anglo-Chinese School (Barker Road), Singapore Chinese Girls' School, Hwa Chong Institution, National Junior College, Raffles Girls' Primary School, Nanyang Primary School, Nanyang Girls' High School and Saint Joseph's Institution. This has made District 10 a top choice for rich Good class bungalow buyers who want to send their children to good schools here.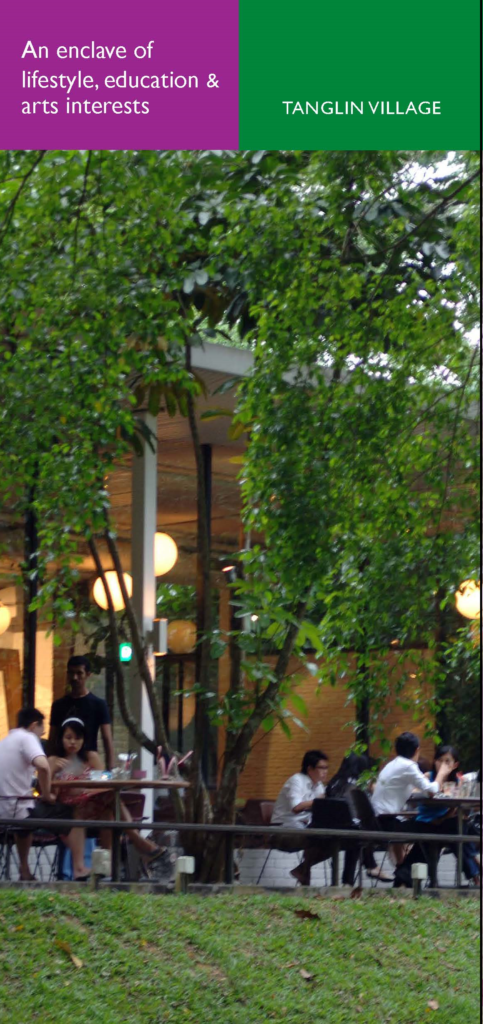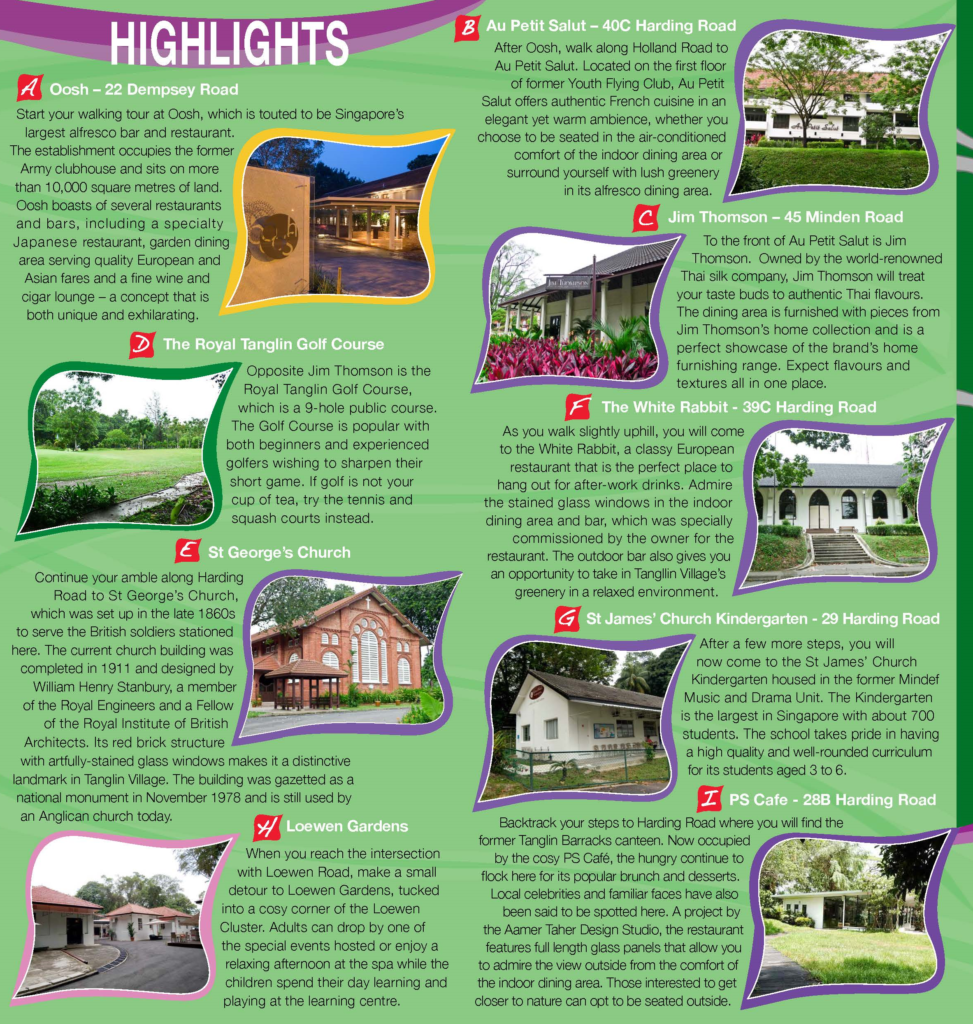 Tanglin Village : is organized into three clusters, named for the main arterial roads.
They are the Dempsey cluster, the Minden cluster and the Loewen cluster.Tanglin Village is nestled near the good class bungalow area opposite the Singapore Botanic Gardens. This idyllic setting has become increasingly popular with a small diverse community of businessmen and entrepreneurs, chefs and educators, dancers and artists, architects and designers. At present, over 30 businesses and organizations call Tanglin Village home. Tanglin Village is a prime location, just five minutes away from Orchard Road and accessible to visitors.
A number of new lifestyle concepts have taken residence in Tanglin Village in the last decade.  PS Café opened in December of 2005 and has proven to be a favorite haunt for celebrities. In 2006, two more alfresco dining concepts opened, namely Hacienda and Oosh. These will add to the existing stable of notable establishments including Highwood, the Wine Company and the Wine Network.These concepts are not merely places to tantalize the palates but also opportunities for architects and designers to show off their skills. Two of these establishments, "PS Café" and "Oosh" are known to have engaged Aamer Tahler Design Studio to helm their projects. Oosh is touted as Singapore's largest alfresco bar and restaurant and sits on 110,000 squarefoot land. The establishment houses several restaurants and bars, including a specialty Japanese restaurant, garden dining area serving quality European and Asian fares and a fine wine and cigar lounge a concept that is both unique and exhilarating.
St James Kindergarten with some 650 kids in its enrolment, is the largest kindergarten in Singapore. Developing its own curriculum, this kindergarten is one of the few in Singapore who can truly lay claim to "Nature and Nurture". Other education concepts taking residence in Tanglin Village include the Overseas Family School and The Ballroom, a dance school for ballroom and different genres of dances.
History: Tanglin Road adopted its name from the house of William Napier, who was a prominent lawyer and newspaper editor in Singapore in the 1800s. Sir Stamford Raffles revamped the entire town four years after the founding of Singapore in 1819. Various land parcels were distributed to the ethnic groups for their businesses and trade.The Chinese, particularly the Teochews, engaged largely in the agricultural business. They cleared large pieces of land for the cultivation of pepper, gambier and nutmeg. The former Tanglin Barracks was one of the flourishing nutmeg plantation sites. Due to a blight, the nutmeg cultivation came to an abrupt halt in 1857. In 1860, a large portion of the nutmeg plantation at Tanglin was carved out for the construction of the Tanglin Barracks. This was intended as accommodation for the military troops in Singapore . In 1867, there were plans to station a European regiment at the Tanglin Barracks. Extensive renovations were carried out. By 1893, Tanglin Barracks was home to 26 officers and 661 men of the only infantry battalion in Singapore, two artillery batteries, one company of Royal Engineers, and a few Sikh soldiers from the Chine Gun Lascars.On 10 Feb 1972 , the Ministry of Defence (MINDEF) decided to shift its headquarters to Tanglin Barracks, which had been vacated by the British Far East Land Forces. This move enabled MINDEF to centralise the Ministry and most of its main command and support organisations in one location. In 1989, after a 17 year stay in Tanglin, MINDEF HQ moved into its new home at Bukit Gombak. Tanglin Barracks was returned to the former Land Office in the early 1990s and subsequently progressively let out to the private sector. Today, Tanglin has been revamped to a lifestyle and education hub, as reflected by various colonial buildings next to Minden Road that have been used as dance studios or childcare centres.
Dempsey hill: ( Part of Tanglin Village) located opposite the Singapore Botanic Gardens is the community for diverse entrepreneurs, businessmen, artists, and the likes. In Tanglin Village, alfresco bars like the well-known PS Café have also attracted notable numbers of visitors to its delectable dishes and great entertainment. Known to be a place that caters to lifestyle, education, and arts for the residents in the area, Dempsey hill has continued to develop to cater to both the locals and visitors needs.
Holland Village : Popularly known as "Holland V" and Singapore's Bohemian enclave, this village just behind the Singapore Botanic Gardens has a lot of Singapore Good class bungalows GCB around it.
Having a myriad of restaurants, art and craft stalls, art galleries, gift shops, novelty shops, theme party clothing stores, ethnic home décor articles and many other interesting shops and great sources of entertainment, it has been one of the reasons why buyers have chosen to buy a Singapore
Good class bungalows GCB in Holland. Indeed, there are many prominent bars and restaurants in Holland Village, for instance Marmalade Pantry, Tapas Wine Bistro, Tango's Baden-Baden, Harry's Bar and the most famous of all, Wala Wala. Other popular eateries including Crystal Jade and Everything with Fries, which is a local Singaporean start-up, can also be found here.
Aside from Holland Village MRT station, the Farrer Road MRT station and Botanic Gardens MRT stations are nearby too, which gives visitors and residents easy access to places outside Holland village.
District 11 – Novena, Newton, Thomson
District 11 is one of the prime districts in Singapore.
District 11 comprises many exclusive private housing areas, large reservoirs, renowned schools and religious buildings.It is a place where Singaporeans can enjoy myriad facilities that cater to their everyday needs.
Good class bungalows GCB in the Novena area is extremely sought-after due to its proximity to the Central Business District (CBD). It has also become an extremely popular area for expatriates seeking quality rental Good class bungalows GCB due to its location and amenities, making it an excellent choice for those wishing to invest in a buy-to-let property.
There are many renowned educational institutions in the vicinity such as Singapore Chinese Girls' School, Saint Joseph's Institution and Anglo-Chinese School. There is good local demand from Good class bungalows GCB parents who want to send their children to good schools there.
There is a medical hub, good demand from Good class bungalows GCB investors and good demand from Good class bungalows GCB homebuyers.
The vast majority of homes in Novena are landed houses, including Good class bungalows GCB, or condominiums.
District 11 is served by the North South MRT Line at the Novena MRT Station and Newton MRT Station.
Dunearn Road: A Scottish name by origin, Dunearn was named after Dunearn House, the former Oldham Hall Boarding School situated on the road. The road is covered with tall trees such as Broad Leaf Mahogany, Kenanga, Droopy Cassia, Rhu and Jambu Laut. Located at the junction of Dunearn Road and Gilstead Road is the Home Nursing Foundation erected in 1966 to serve as the Singapore Family Planning Centre. Now, the World Health Organisation utilizes the building. Built in 1970, the Bougainvillea Park features a variety of Bougainvillea and other types of flowers. Private residential units built over the years line Dunearn Road.
Places of worship in the Dunearn area include Phor Beng See Temple, Kuan Yin San Temple, Gospel Light Christian Church, Bethlehem Bible Presbyterian Church and Barker Road Methodist Church, The Korean Church in Singapore and the Life Bible Presbyterian Church.
The Copthorne Orchid Hotel and Raffles Town Club are a couple of the commercial buildings along Dunearn Road.
Newton: The Newton Planning Area is located in the Central Region of Singapore. Newton Road is situated within the Novena Planning Area, from the south of Newton Circus to the north of Thomson Road. Newton is famous for its food centres, such as the Newton Food Centre, which offers delicious mouthwatering local fare.
In Newton, the Newton Circus is the site of the well-known Newton Hawker Centre (now the Newton Food Centre). Although some may feel that the food centre is overly pricey, it is an airy spot and you will be spoilt for choice with its wide variety of food stalls. Recommended dishes include the oyster omelet, popiah, barbequed chicken wings and barbequed seafood.
Novena : A town located in the Central Region, Novena is an urban planning zone under the Urban Redevelopment Authority. Many of its roads, buildings as well as the MRT Station are named after the Novena Church (or Church of St Alphonsus). Homes in Novena are generally more expensive due to its prime location and amenities. There are many condominiums like Birmingham Mansions, Thomson Euro-Asia and Lion Towers in Novena. There are no HDB in the area.
Novena houses many amenities such as the Novena Square Shopping Mall, Novena Medical Centre, a sports-themed mall called Velocity and United Square – a kids oriented mall.
Over the years, Novena has undergone major developments to become one of Singapore most sophisticated neighbourhoods.
Novena is not short of landmarks, which makes it one of the most distinctive neighbourhoods in Singapore. Other than the storied Novena Church, with its very visible location on Thomson Road, the area has drawn visitors from all over Singapore, thanks to the cluster of shopping malls in the vicinity of Novena MRT station.
Velocity @ Novena Square, formerly known as Novena Square Shopping Mall, was rebranded ten years ago and transformed into a sports-themed mall with an outdoor basketball court by the entrance. Free workouts are frequently organised on-site, and tenants include the Adidas Factory
Outlet, Reebok Fit Hub, Royal Sporting House and World of Sports.
Just next door is Square 2, dedicated to the more conventional pursuits of shopping and dining. The mall boasts a Korean-themed cluster of tenants for those who've been swept up by the Korean craze.
Further down Thomson Road, United Square Shopping Mall is another long-time shopping centre that is now in its current incarnation as a hub for child-and-maternity products and services. The mall is equipped with a nursing room, reading room and play facilities, in addition to a range of retail shops which include GapKids, Petit Bateau and Toys "R" Us.
For those who wish to escape air-conditioned malls for a more authentic local experience, Balestier Road has a reputation for being home to some of Singapore oldest and most famous eateries, attracting food-hunters from all over the island. Firm favourites include revered chicken rice sellers Boon Tong Kee and the inimitable 333 Bak Kut Teh.
Despite the myriad of shopping and dining options in the area, Novena is by no means a concrete jungle. In fact, due to the abundance of low density housing, such as chancery lane GCB Good class bungalows, gentle road GCB Good class bungalows, Bukit tunggal GCB Good class bungalows, all of which are in Bukit Tunggal Good class bungalows areas (GCBA), the area retains a peaceful charm that has been lost in many parts of Singapore, with quiet pockets where residents and visitors can relax.
One such spot is the beautiful Zhongshan Park, with its picnic-worthy grounds, flanked by restaurants and a shopping mall. The Sun Yat Sen Nanyang Memorial Hall, just a stone's throw away, is one of the most important cultural sites in the Balestier Conservation Area, having served as Sun Yat Sen's base for his revolutionary activities in Southeast Asia.
Looking to the future, Novena has a enduring popularity that looks set to grow even further. Already, the area has improved greatly from the opening of the Downtown Line's two new MRT stations (Botanic Gardens and Stevens), which have boosted connectivity to the CBD and Bukit Timah.
Beside Botanic Gardens MRT station lies Good class bungalows areas (GCBA) Dalvey Estate and Good class bungalows areas (GCBA) White House Park.
Beside Botanic Gardens MRT station also lies Good class bungalows areas (GCBA) Cluny Hill, which consists of Cluny Hill GCB Good Class Bungalow, Cluny Park GCB Good Class Bungalow; and Good class bungalows areas (GCBA) Gallop road/ Woollerton Park which consists of Gallop Road GCB Good Class Bungalow , Gallop Park Road GCB Good Class Bungalow , Woollerton Drive GCB Good Class Bungalow,  Woollerton Park GCB Good Class Bungalow.
Between Botanic Gardens MRT station and Stevens MRT station lies Good class bungalows areas (GCBA) Dalvey Estate, which consists of Dalvey Estate GCB Good class bungalows, Dalvey Estate GCB Good Class Bungalows, Lewis Road GCB Good Class Bungalows;
Good class bungalows areas (GCBA) White House Park, which consists of Dalvey Road GCB Good Class Bungalows,  Margoliouth Road GCB Good Class Bungalows,  White House Park GCB Good Class Bungalows.
While Novena has always been very accessible due to its proximity to Orchard Road and the CBD, the area will be even better connected when the Thomson MRT line and its Mount Pleasant station, as well as the interchange at Stevens, are added by 2021.
Another major initiative that will further boost Novena's attractiveness is the upcoming Health City Novena, an integrated community of healthcare, medical education and translational research providers, slated for completion in 2030. All public and volunteer healthcare facilities, plus a medical school, will be linked up to form Health City Novena. More facilities and services will be added to the existing ones, such as Tan Tock Seng Hospital, and the built-up area will be more than doubled from 250,000 sq m to 600,0000 sq m. In the future, there will be a steady pool of good tenant profiles, involved in medical works, in the Novena area and spilling over to Newton.
The GCB Good Class Bungalows owners of Novena have the good fortune of being able to enjoy the best of both worlds – a glitzy modernity that manifests in shopping malls band healthcare facilities on the one hand, and the idyllic, nostalgic charm of the Balestier shophouse stretch, two sides of a Singapore that's caught between the past and the future.
District 20 – Ang Mo Kio, Bishan, Thomson
District 20 is generally residential in nature, consisting of large-scale, older residential estates in Ang Mo Kio to newer, upmarket residential estates in Bishan and Thomson. Being easily accessible to the Central Business District (CBD), the prices of the houses here are costly. Nevertheless, many Singaporeans are drawn to live in this area because of its ample amenities and facilities.
Thomson: Lying on the fringes of the city centre is Thomson, a mixture of housing area, hotels and shopping centres. Named after John Turnbull Thomson, Singapore's rst government surveyor, Thomson includes Kallang Bridge, a portion of St Andrew's Cathedral and the waterworks for town supply. Here, most of the housing estates consist of condominiums, serviced apartments, landed property and Good class bungalows GCB, Windsor Park Road GCB Good Class Bungalow.
District 21 – Upper Bukit Timah, Ulu Pandan, Clementi Park
A district where education is the main focus, District 21 comprises of Upper Bukit Timah and Clementi. Besides educational institutions, this district is home to Singapore's rich foliage, sub-urban shopping centres and an equestrian club.
Upper Bukit Timah: Right in the central region of Singapore is Bukit Timah, a place known for its ritzy condominiums, landed property and Good class bungalows GCB. For shopping and necessities, head to Bukit Timah Plaza, Beauty World Shopping Centre, Courts Bukit Timah and King Albert Park. One can also find many Good class bungalows GCB with great greenery views around.
~~~~~~~~~~~~~~~~~~~~~~~~~~~~~~~~~~~
Interested tO buy a Good Class Bungalow in land scarce Singapore?
Call Serene Chua @ HP ( +65) 98-199-199 to begin your house hunting.
As your realtor, we are committed to do the homework for you and list available suitable Good Class Bungalows that are currently for sales.
***** MANY GOOD CLASS BUNGALOWS on hand, One call view all.****
We are also familiar with each of the 39 designated Good Class Bungalow neighborhoods; so that we can answer your questions and help you determine which neighborhood is right for you –  in terms of convenience, amenities, surroundings ambience, etc.