I promise you the best price in the fastest time!
SELL/ BUY/ RENT- Call me @ HP 98-199-199 Serene Chua for a non-obligatory discussion.
Contact Me today!
Planning Constraints Protects Exclusivity
Good Class Bungalows in Singapore are the most sought-after landed properties in the city. There are very few Singaporeans who live in landed areas and there are only a few GCBs available in the city-state. This is the reason why good class bungalows command higher prices than almost any other kinds of living spaces. GCBs can be compared to luxury condos regarding how much they cost to buy.
The Urban Redevelopment Authority ( URA ) has opted to gazette Good Class Bungalows with 39 areas protected. The explanation for this was to protect the high environmental quality of these established massive bungalow areas from the intrusion of more intensive forms of housing like semi-detached or patio houses.
Walk around chosen GCB areas and you may find not only beautiful houses but old stately trees as well. The URA"s plans to protect these areas come hand in hand with not only saving the houses but the area as well . Designating areas for Good Class Bungalows make sure that these houses remain under 2 stories and that trees and the overall ambiance of the area will differ from the common busy, crowded and rushed areas in Singapore.
Good Class Bungalow owners have to comply with housing constraints issued by the URA. This contains a minimum plot size of 1400m2, and a building not extending to over 2 stories. Owners also need to agree not to build a bungalow that consumes more than 40% of the footprint of the plot, ( maximum site coverage of 40%). There also has to be sufficient greenery in between plots of land. Most of all, foreigners are not allowed to own Good Class Bungalows.
Good Class Bungalows
Good class bungalows belong to the highest and most prestigious type of landed housing in Singapore because of the planning constraints imposed by the authorities. The term "Good Class Bungalow" is actually an URA planning term. There are approximately 39 residential areas designated as Good Class Bungalow areas.
A bungalow that falls within the boundaries of such GCB Good class bungalow areas are subject to planning constraints namely, minimum land plot size must be 1,400 sq m (15,070 sq ft) and building height of 2-storeys only. By imposing seemingly stringent constraints, the exclusivity and low-rise character of such neighborhoods are preserved.
Good class bungalow designated areas are mainly located in the prime residential districts of 10 and 11 as well as in the good class bungalow estates in districts 20, 21 & 23.
These good class bungalow areas would include the bungalow enclave of Nassim, Ladyhill, Rochalie, Bishopsgate and Chatsworth areas and Cluny Road in District 10, just off the prime Orchard belt. Within close proximity, the Good class bungalow areas can be found in Ridley Park off Tanglin Road. GCB areas are also sited along Peirce Road/ Swettenham Road and into Ford Avenue/ Leedon Park off Holland Road. GCBs are also found within the bungalow stretches along Duchess Road, Brizay Park and King Albert Park off the popular Bukit Timah Road. The Good class bungalow area boundary also extends into Chee Hoon Avenue, Eng Neo Avenue and Swiss Club Road in district 11. Within district 21, areas designated as good class bungalows include the prestigious Binjai Park and Yarwood Avenue localities and Chestnut Avenue in district 23.
Some 1,000 Singaporeans are said to own the majority of Good Class Bungalows here.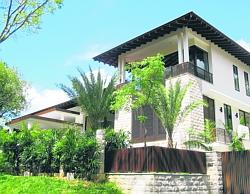 Very few people live in landed homes in Singapore and even fewer live in Good Class Bungalows (GCBs), which probably explains why they are so desirable. There are about one million or so homes here. These comprise terrace houses, semi-detached houses, bungalows, good class Bungalows and of course high-rise homes such as condominiums, apartments and public housing flats.
Exclusive: While it is not inconceivable that there could be more Good Class Bungalow GCB areas added in the future, given the need to intensify land use in Singapore, the likelihood is very slim.
But Good class bungalows stand quite far apart from all of these in that they not only have to sit on land that is of a certain size not less than 1,400 square metres  but also have to be located in areas that have been specially designated for them. Indeed, there are estimated to be less than 2,800 Good Class Bungalows (GCBs) in Singapore.
GCB areas were officially gazetted in 1980 with 39 areas formally safeguarded. A spokesman for the Urban Redevelopment Authority (URA) explained that the purpose of the gazette is to protect the high environmental quality of these established large bungalow areas from the intrusion of more intensive forms of housing such as semi-detached or terrace houses.
Walk or drive around these GCB areas and often you will notice not only stately houses but stately trees as well with many protected for posterity. There are two zones in Singapore under the National Parks Board Tree Conservation Areas (TCA) with the main zone covering central Singapore where most of the Good Class Bungalows GCBs are located.
To control development in these areas, URA set certain guidelines for planning purposes. For instance, the minimum plot size for any newly created bungalow within the 39 GCB areas must be at least 1,400 sq m. For this reason, a GCB plot cannot be developed to accommodate more intensive forms of housing. And unless it is at least 2,800 sq m in size, it cannot be sub-divided into two GCB plots either.
Of the GCB areas, the best known are the Nassim, Cluny, Bishopsgate and White House Park estates. While it is not inconceivable that there could be more GCB areas added in the future, given the need to intensify land use in Singapore, the likelihood is very slim.
URA spokesman said: In drawing up our land use plans for Singapore, we aim to provide a variety of housing options for Singaporeans, from waterfront housing to garden living to city living. This includes low-density and landed housing, such as those found within existing GCB areas. The detailed housing form for future landed housing areas will be determined when the area is ready to be developed.
URA said that there are currently no plans to release new sites or designate new areas as GCB areas. Nevertheless, there is scope for the number of GCB plots within existing GCB areas to increase, for example through sub-division of larger GCB plots into several GCB plots, so long as each bungalow plot meets the minimum land size of 1,400 sq m2, URA added.
Big GCB plots do not come by often. In 1994, a plum site in the White House Park GCBA came up for sale by public tender. The 194,000 sq ft parcel was the official residence of the Australian high commissioner at White House Park/Dalvey Road. Property valuers had estimated that the site could fetch as much as $70 million, or around $400 per square foot (psf). The site eventually sold for $98 million or $505 psf.
In 1997, developer Wharf Group sold five units of the 11-unit development of GCBs at an average of $14.1 million each. Ten years later, in 2007, a house in this development sold for $28.8 million. There have been other public tenders of large sites.
In 2000, Hongkong and Shanghai Banking Corporation (HSBC) sold a 201,782 sq ft freehold bungalow site it owned since the 1960s in Jervois Road for $60 million, or slightly over $330 psf. Then in 2003, HSBC sold a 276,112 sq ft site at Bishopsgate for $69.8 million. Together, all three sites would have yielded less than 40 new GCBs.
Occasionally, individual GCB sites will come up for auction. In 2008, the Singapore Land Authority SLA auctioned a site at Ridout Road which saw 34 bids lodged by three prospective buyers. The winning bid came in at $8.96 million or $579.55 psf. This was 22.6 per cent above the opening bid of $7.31 million or $473 psf. Being fresh government land sale sites, however, it came with a 99-year lease.
Because the environment is an important factor in GCB areas, there are guidelines that control how big the house can be. For instance, the house cannot cover more than 40 per cent of the site. This is to ensure that there are adequate green buffers between each house.
There are also more prosaic restraints, for example, childcare centres are not allowed in GCB areas for instance. But perhaps the most important constraint on GCB ownership to note is that foreigners are not allowed to own these, only Singapore citizens are allowed to buy Good Class Bungalows GCBs .
Some 1,000 Singaporeans are said to own the majority of GCBs here and are mostly intent on holding on to them as long-term investments. If you have bought one through the open market, you can count yourself lucky indeed.
For more Good Class Bungalows for SALES/RENT, Please call me @ 98-199-199. $Referrals Appreciated$
---芝玲就是一位靠勤奋、专业、细心和人品赢得客户的心的中介。卖屋时,我们的屋子若有任何问题,芝玲都会替我们处理,我很满意。谢谢芝玲!我们放心的房产中介! 卖家 – 李医生
---"THE ENTHUSIASM, PROFESSIONALISM AND SHEER HARD WORK DISPLAYED BY SERENE FAR EXCEEDED MY EXPECTATIONS AND WERE UNDOUBTABLE RESPONSIBLE FOR THE EXCELLENT PRICES ACHIEVED IN SELLING MY THREE INVESTMENT PROPERTIES." - STEPHEN HARRIS