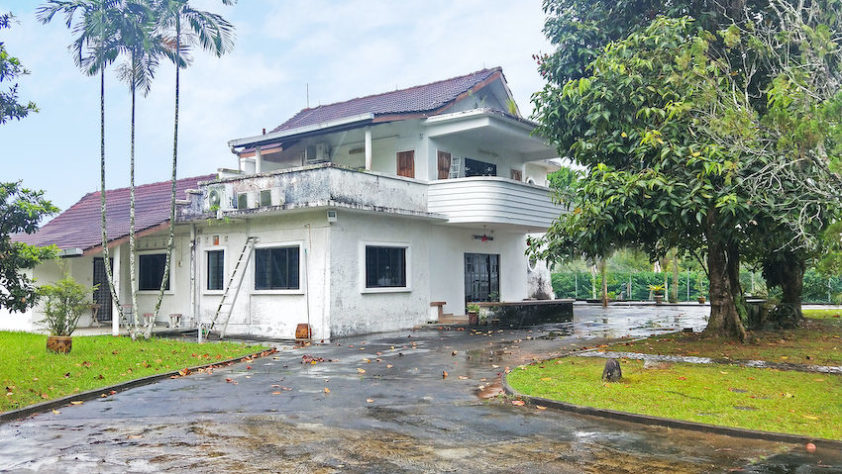 Good Class Bungalow at Windsor Park bought for $21.68 mil without viewing
Good Class Bungalow at Windsor Park bought for $21.68 mil without viewing
– Adapted from Cecilia Chow/ EdgeProp Singapore|May 4, 2020 1:00 AM SGT
SINGAPORE (EDGEPROP) – The type of deals that do not require physical meetings or property viewings – both of which have been disallowed during this "circuit breaker" period – tends to be of old, landed properties where the owner intends to tear down and rebuild the existing structure.
This was the case for a Good Class Bungalow (GCB) at Windsor Park Estate, located off Upper Thomson Road. The Good Class Bungalow (GCB)  along Windsor Park Road sits on a 21,098 sq ft, freehold site and changed hands for $21.68 million ($1,028 psf), according to a caveat lodged with URA Realis on April 17. "There are not many properties in Windsor Park Estate that come up for sale," says Bruce Lye, managing partner of SRI, who brokered the sale. "The transacted price is reasonable."
The last transaction at Windsor Park Estate was for a Good Class Bungalow (GCB) located just across the road, on Windsor Park Hill. The Good Class Bungalow (GCB) , which sits on a 21,991 sq ft, freehold site, fetched $23.5 million ($1,068 psf) in October 2018.
The Good Class Bungalow (GCB)  at Windsor Park Road that was just sold was an old, double-storey, detached house that was built more than 30 years ago. It was previously occupied, but has been vacant in recent years.
For the buyer, a Singaporean businessman, the Good Class Bungalow (GCB)  appeal is that it is surrounded by greenery, and its proximity to Windsor Nature Park, which is linked to three reservoirs at the Lower Peirce, Upper Peirce and MacRitchie nature reserves, says Lye.
Prior to buying the Good Class Bungalow (GCB), the buyer had driven around the Good Class Bungalow (GCB) neighbourhood several times to view the location. "If you're looking to buy a property with the aim of redeveloping it, this is the best time," adds Lye. "You don't need to view the actual property. You can just drive by to take a look at the site, and see the shape of the land." Lye had also provided the buyer with the site plans, sewerage plans and road line plans.
The Good Class Bungalow (GCB)  deal at Windsor Park Road could be described as "contactless", as the go-between between all three parties – the buyer, seller and Lye — was the courier. The courier had picked up the option-to-purchase document from Lye, and the cheque from the buyer. Both were dispatched to the Good Class Bungalow (GCB) seller. When the Good Class Bungalow (GCB) seller had signed the document, he in turn informed the courier service that the document was ready for pick-up. The signed document was then dispatched to the Good Class Bungalow (GCB) buyer's address, explains Lye.
During the circuit breaker period, all property-related transactions – from leasing to sale and purchase, including delivery of keys and documents — would be handled by the courier, adds Lye. SRI has tied up with a courier service company, and the cost will be borne by the former instead of individual agents.
Other Good Class Bungalow (GCB)  deals are brewing elsewhere, notes Lye. He is marketing another Good Class Bungalow (GCB)  at Maryland Drive in the Maryland Estate, off Holland Road. The house is an original, single-storey Good Class Bungalow (GCB) with a swimming pool and a sprawling lawn sitting on a 21,863 sq ft, 999-year leasehold site. The Good Class Bungalow (GCB) has an asking price of $27 million ($1,235 psf).
An offer is currently on the table for the Good Class Bungalow (GCB)  at Maryland Drive, says Lye, but there is still a $1 million gap between the Good Class Bungalow (GCB) owner's asking price and the prospective buyer's price that needs to be bridged.
Ironically, during this circuit breaker period, Lye is even busier than before. "Business owners who have done well and set aside some money are using the lull during this circuit breaker to look at potential redevelopment sites."
~~~~~~~~~~~~~~~~~~~~~~~~~~~~~~~~~~~
Interested t0 buy a GOOD CLASS BUNGALOW in land scarce Singapore?
Call  Serene Chua @ HP ( +65) 98-199-199 OR whatsapp me at http://wa.me/6598199199 For A Non-Obligatory Discussion.
All of your information will be kept confidential. It will only be used to serve you better.
As your realtor, we are committed to do the homework for you and list available suitable GOOD CLASS BUNGALOWS that are currently for sales.
***** MANY GOOD CLASS BUNGALOWS on hand, One call view all.****
$$ Referrals Appreciated $$
~~~~~~~~~~~~~~~~~~~~~~~~~~~~~~~~~~~
Related Post
James Dyson second ultra- luxury property in Singapore! A Good Class Bungalow!  The Singapore bungalow reportedly bought by James Dyson. Th...
The most expensive homes to have been sold in Singapore Adapted from Fiona Ho / EdgeProp | November 10, 2017 10:30 AM MYT While it has take...
Rolls Royce Sweptail : The epitome of luxury cars! Amazing Rolls-Royce Sweptail HD Video WOW! Concorso d'Eleganza at Villa d...