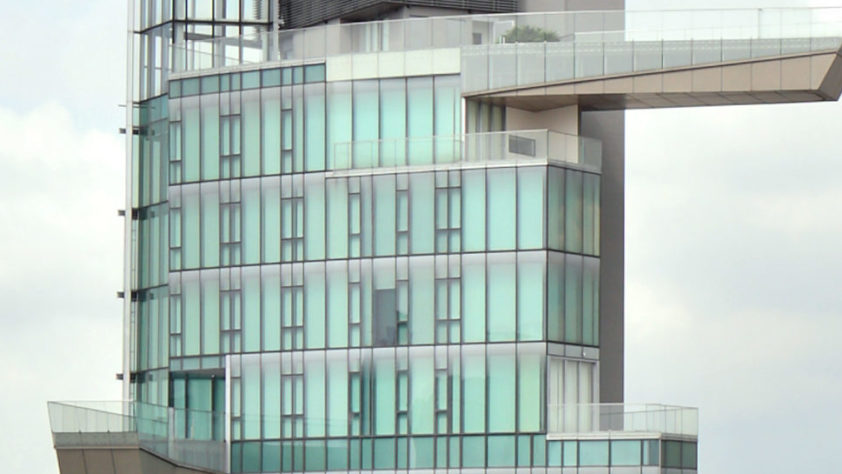 The most expensive homes to have been sold in Singapore
The most expensive homes to have been sold in Singapore
Adapted from Fiona Ho / EdgeProp | November 10, 2017 10:30 AM MYT
While it has taken a beating from the government's property cooling measures in recent years, luxury home prices in Singapore are now showing signs of recovery. Sales of luxury condominiums in the prime districts have been picking up in the past year, a continuation of a trend that began towards the second half of 2016.
In this article, we will look at six of the most expensive homes to have been sold in our little red dot, based on transactions between 2013 to 2017. Spoiler: Eduardo Saverin reportedly owns one of them.
1)      An unnamed unit at Sculptura Ardmore, >$60 million (2017)
Where: D10 – Ardmore Park
Tenure: Freehold
Completed: 2014
Sold for: Over $60 million ($5,825 psf) in August 2017
The recent purchase of a super penthouse at SC Global Development's ultra- luxurious Sculptura Ardmore for over $60 million has set a record price for the most expensive home to have ever been sold in Singapore. The 34-unit Sculptura Ardmore stands out for its cantilevered swimming pools.
Word on the street is that the buyer of the 10,300 sq ft super penthouse unit at the development is Facebook co-founder and one Singapore's richest men, Eduardo Saverin. He married Singapore-based Indonesian Chinese Elaine Andriejanssen in 2015.
Sculptura Ardmore employs an architectural language that delicately balances the need for generous well designed internal living spaces with the aesthetic need for beauty.
The 36-storey development in the exclusive residential enclave of Ardmore Park comprises luxury four-bedroom units ranging between 2,800 sq ft and 4,000 sq ft, and four units with private lap pools ranging between 4,200 sq ft and 10,300 sq ft.
Facilities include concierge service, 30m lap pool with jacuzzi & children's pool, two sky terraces replete with private clubhouse, indoor and outdoor entertainment areas, gymnasium and sky gardens.
2)      A 32nd floor penthouse unit at Le Nouvel Ardmore, $51 million (2015)
Where: D10 – Ardmore Park
Tenure: Freehold
Completed: 2014
Sold for: $51 million ($3757 psf) in April 2015
Le Nouvel Ardmore is Wing Tai's trophy development in collaboration with globally renowned architect, Jean Nouvel. The exclusive 33-storey single-tower freehold condominium development sits on Ardmore Road, and is Nouvel's first residential landmark in Singapore and in Asia.
Inspired by the Rubik's cube, Nouvel presents an opportunity to provoke confrontations of orientations, textures, lights and unlikely techniques, such that the Le Nouvel Ardmore maximizes the views and quality of its modular internal spaces.
The development comprises just 43 units, with each exceeding 3,800 sq ft. In April 2015, a 13,573 sq ft penthouse unit comprising the top two levels of the development was reportedly sold to Mr Sun Tongyu, one of the founders of the Alibaba Group, for $51 million ($3757 psf). Sun was also formerly the president of Alibaba's consumer-focused e-commerce platform, Taobao, but now invests in start-ups.
The penthouse comes with five bedrooms, with a family area and a study area on level 32. A private pool, private foyers, roof terrace, a gym and an entertainment area are on level 33. Today, units at the development are selling at an average of $4,457 psf. Five-bedroom units at Le Nouvel Ardmore are currently listed on EdgeProp.sg for $23 million and up.
3)      A 34th floor penthouse unit at Twentyone Angullia Park, $42.9 million (2013)
Where: D9 – Angullia Park
Tenure: Freehold
Completed: 2014
Sold for: $42.9 million ($5,560 psf) in June 2013
The 54-unit Twentyone Angullia Park sits along Orchard Road and is the flagship project of CS Land, formerly known as China Sonangol.
Prices at the development peaked in June 2013, when a 7,718 sq ft penthouse was sold for $42.9 million ($5,560 psf) and the 2,260 sq ft, three-bedroom unit directly below it was sold for $11.53 million ($5,099 psf).
The buyer of the two units was said to be Malaysian businessman Low Taek Jho, more commonly known as Jho Low, who is ensnared in the 1MDB scandal rocking the country.
In July 2016, the $8.3 million sale of a 2,777 sq ft, four-bedroom unit at the development translated to $2,989 psf, the lowest price achieved at Twentyone Angullia Park since it was launched in 2012, and also marks the first time prices at the condo have fallen below $3,000 psf. Units at the development are currently selling at an average of $3,480 psf, based on sale listings on EdgeProp.sg.  Find units at Twentyone Angullia Park here.
4)      A 5th floor unit at The Nassim, $25.57 million (2017)
Where: D10 – Nassim Hill
Tenure: Freehold
Completed: 2015
Sold for: $25.57 million ($2750 psf) in May 2017
Third on the list is a 9,300 sq ft resale unit at The Nassim, which changed hands for $25.57 million ($2,750 psf) in May 2017. The buyer is said to be a foreigner.
The 55-unit upmarket development was designed by renowned architect Mok Wei Wei of W Architects.
It made headlines in January 2017, when veteran banker Wee Cho Yaw, one of Singapore's richest men, bought all 45 unsold units at the upmarket condo through his family's private real estate arm, Kheng Leong for $411.6 million. The bulk sale got developer CapitaLand off the hook over penalties that apply to unsold properties after a stipulated period. It was reported that the penalties could have run to millions of dollars.
Units at the development are currently selling at an average price of $3,304 psf. Browse more listings at The Nassim here.
5)      A 5th floor unit at Nassim Park Residences, $22.5 million (2015)
Where: D10 – Nassim Road
Tenure: Freehold
Completed: 2011
Sold for: $22.5 million ($3,271 psf) in April 2015
Nassim Park Residences is a luxury condo project comprising 100 units near the Orchard Road shopping belt. The project comprises four-bedroom apartments ranging between 3,175 sq ft and 7,901 sq ft, and penthouses ranging between 6,803 sq ft and 8,008 sq ft.
The project was jointly developed by UOL Group, Kheng Leong and Orix Capital, and was jointly designed by Chan Soo Kian from SCDA Architects, Japanese landscape architect Shunmyo Masuno and French interior designer Christian Liaigre.
In April 2015, a 6,878 sq ft unit on the fifth floor changed hands for $22.5 million ($3,271 psf). Prices at Nassim Park Residences have stayed above the $3,000 psf mark since March 2010.
Units at the development are currently selling at an average pf $3,488 psf. Browse more units at Nassim Park Residences here.
6)      A 23rd floor unit at Gramercy Park, $21.86 million (2017)
Where: D10 – Grange Road
Tenure: Freehold
Completed:  2016
Sold for: $21.86 million ($3,000 psf) in August 2017
The $21.86 million ($3,000 psf) sale of a 7287.17 sq ft unit at Gramercy Park in August 2017 rounds up the list.
The 174-unit twin-tower condo was developed by City Developments (CDL) and was completed in 2016. The 24-storey towers contain 87 units each and are named North and South Towers.
Units at Gramercy Park range from 1,184 sq ft for a two-bedder to 7,287 sq ft for a five-bedroom penthouse. Its curved, glass-clad towers were designed by NBBJ of New York, the architect behind CDL's other landmark development, the 1,111-unit The Sail @ Marina Bay.
On Oct 23, CDL walked away with an award for Development Excellence for Gramercy Park at the inaugural EdgeProp Excellence Awards 2017 gala dinner. According to CDL, despite tough market conditions, 148 out of 174 units (85%) at Gramercy Park have been sold to date. The project appealed to buyers because of its "exceptional value proposition in terms of location, design and unique attributes", says Sherman Kwek, CDL's CEO-designate.
~~~~~~~~~~~~~~~~~~~~~~~~~~~~~~~~~~~~~~~~~~~~~~~~~~~~~~~~~~~~~~~~~~~~~~~~~~~~~~~~~~~~~~~~~~~~~~~~~~~~~~~~~~~~~~~~~~~~~~~~~~~~~~~~~~~
P.S:  Some 1,000 Singaporeans are said to own the majority of GCBs Good Class Bungalows here and are mostly intent on holding on to them as long-term investments. Land scarcity, a high population density, growing household wealth and limited supply are the primary reasons that make Good Class Bungalows (GCBs) a coveted asset in Singapore. Good Class Bungalows (GCBs) represent the apex of the landed segment. With a finite supply of GCBs available in the market, owners of GCBs are seemingly of an unparalleled status of prestige among home owners in Singapore.  If you have bought one through the open market, you can count yourself lucky indeed.
~~~~~~~~~~~~~~~~~~~~~~~~~~~~~~~~~~~
Interested to buy a Good Class Bungalow  in land scarce Singapore?
Call Serene Chua @ HP ( +65) 98-199-199 to begin your house hunting.
As your realtor, we are committed to do the homework for you and list available suitable Good Class Bungalows that are currently for sales.
***** MANY GOOD CLASS BUNGALOWS on hand, One call view all.****
$$ Referrals Appreciated $$
~~~~~~~~~~~~~~~~~~~~~~~~~~~~~~~~~~~
Best Regards,
Serene Chua : (+ 65)98-199-199
B.Sc(NUS)Hons / CEHA-Certified
Email : topserene@yahoo.com.sg
Related Post
Good Class Bungalow at Windsor Park bought for $21.68 mil without viewing – Adapted from Cecilia Chow/ EdgeProp Singapore|May 4, 2020 1:0...
James Dyson second ultra- luxury property in Singapore! A Good Class Bungalow!  The Singapore bungalow reportedly bought by James Dyson. Th...
Rolls Royce Sweptail : The epitome of luxury cars! Amazing Rolls-Royce Sweptail HD Video WOW! Concorso d'Eleganza at Villa d...