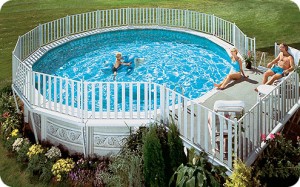 Better Pool? Inground or Above Ground
Better Pool? Inground or Above Ground for good class bungalows.
If you own a good class bungalow, and have weathered the ever hotter weather, chances are you've considered getting a pool in front of the house, or at the backyard. The use of ponds and a pool act as cooling elements for the building.
A cool dip and a few laps are all you need to feel refreshed from the Sun beating down on you.
However, when deciding what kind of pool to purchase, there's a choice to be made. Do you purchase an above-ground pool, or do you have an in-ground pool installed? Either choice can be good or bad, depending on various circumstances in your life. Take a look at the pros and cons outlined below, and hopefully they will help you make the decision on which kind of pool is best for you.
Inground Pools
PROS:
Most in-ground pools are well-made, and guaranteed to last. They typically are made out of three different materials: concrete, vinyl, and fiberglass. Each one is extremely sturdy and can be molded to fit just about any design you might have in mind for your pool.
In addition, in-ground pools are typically installed by professionals, who come to your house and do everything or you. That way, you can trust it the work to be done correctly. However, it's best to do your research into whoever is installing your pool, to make sure that they are credible and knowledgeable. If they have complaints levied against them, or if some licenses are expired, you should definitely shop around elsewhere.
Finally, an in-ground pool usually has a huge size advantage; most are huge, with some looking more like lakes than pools. If you have a large family, host a lot of parties, or rely on swimming for regular exercise, the sheer size of an in-ground pool makes it more than worth the money.
Above Ground Pools
PROS:
Since money is such a factor for so many people, you might be happy to hear that the average above-ground pool is much, much less expensive than in-ground ones. So if you're in the market for a simple, fun way to keep cool, an above-ground pool would be the best, and least pricey, route to take.
Compared to in-ground pools, above-ground pools are much less maintenance, as there are no underground pipes and drains to worry about.
Finally, what if you wish to get rid of your pool one day? If you wish to do so, there are no costs involved, and no professionals to hire. In most cases, all you need is a few friends to help out, while you drain the pool, take it apart, and dispose of the pieces.
CONS:
Only invest in an in-ground pool if you can afford it, because they can be incredibly expensive.
Also do not forget that an in-ground pool is part of the ground, so make absolutely sure this is something you want. If you decide, down the line, that you don't want the pool anymore, you're unfortunately stuck with it. There are companies that will come to your house and remove the pool, but they, naturally, cost money.
CONS:
Unfortunately, "less expensive" can also mean "cheaply made;" as the old cliché goes, you get what you pay for. Many inexpensive models have easily breakable parts, loose ladders, and filters that rust easily. Do understand that it will likely result in you spending far more later on, in addition.
As mentioned earlier, most above-ground pools are much smaller than in-ground pools. If you envision yourself exercising, hosting parties or doing anything outside of wading and relaxing, an above-ground pool is likely not right for you. They are simply too small to allow for much of anything else.
And Finally…
As you can see, the battle between above-ground pools versus in-ground pools depends on several factors. Above ground pools are largely inexpensive, easy-to-assemble, and easy to maintain, but don't last as long and are less roomy.
Meanwhile, in-ground pools are very pricey, harder to maintain, and it's likely to stay part of your backyard, in front of your good class bungalow for life. However, if you can afford the price, have the room, and love to swim, they're well worth the investment. Plus, workers will come to your house and set everything up for you, leaving you with all play and no work.
Everything must be considered when making this decision: space, budget, the ability to work with tools, and whether or not you see yourself still using the pool in 5-10 years' time. So study up, decide which is best for you, head to the store, and make your purchase. Happy swimming!
Pools
http://swimmingpoolsingapore.com/
Modern Pools Singapore Pte Ltd
15 Shaw Road #08-01, S(367953)
Tel : +65 66318377
Fax : +65 62837098
Email : info@swimmingpoolsingapore.com
http://www.rishen.com.sg/services
Ri Shen Services Pte Ltd
Sales Enquiry:
Tel: +65 82180778
Email: services@rishen.com.sg
http://www.modernpools.com.sg/index.html
Modern Pools Pte Ltd
OFFICE ADDRESS : 20 Shaw Road #05-09
Ching Shine Industrial Building
Singapore(367956)
TELEPHONE: (65) 62837093
FAX: (65) 62837098
E-MAIL: modernpl@singnet.com.sg
Related Post
Good Class Bungalow at Windsor Park bought for $21.68 mil without viewing – Adapted from Cecilia Chow/ EdgeProp Singapore|May 4, 2020 1:0...
James Dyson second ultra- luxury property in Singapore! A Good Class Bungalow!  The Singapore bungalow reportedly bought by James Dyson. Th...
The most expensive homes to have been sold in Singapore Adapted from Fiona Ho / EdgeProp | November 10, 2017 10:30 AM MYT While it has take...